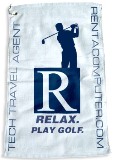 Relax, Play Golf
You Win a 'Relax, Play Golf' Towel from Rentacomputer.com when you request a rental quote!
Anyone who has ever setup a computer training program, convention or trade show knows how hard it is to get all the technology on-site, up and running, without problems, before the event occurs.
Being late is stressful! It makes everyone look bad.
You want to look good.

You don't need the Stress!
This is where a Tech Travel Agent is a big help.
Tech Travel Agents handle the difficult task of getting the right computer rentals, plasmas and AV rental equipment in place and on time. All this is done with one point of contact, your Tech Travel Agent.
Now, for a limited time and while supplies last, Tech Travel Agents from Rentacomputer.com are giving away a "RELAX AND PLAY GOLF Towel" to all new rental technology quote requests. Its our way of saying, "Thanks for asking." Limit one towel per person, supplies limited.
Click here for Free Towel and a Rental Quote
Just mention you want a RELAX, PLAY GOLF Towel with your quote request, email or chat with your Tech Travel Agent.
Tech Travel Agents are technology specialists. They understand the technology needed for successful corporate events such as training programs, trade shows and conferences. Instead of working too hard, work smarter. Contact your Tech Travel Agent, then go play golf.