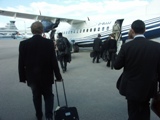 From a recent letter to Rentacomputer.com (edited):
Dear Sirs:
It has been brought to our attention by several of our travellers that the
authorities at US airports have the right to confiscate laptops.
This is only happening in the US to our foreign travellers.
Travellers are getting quite concerned that this may happen to them!
We are looking for a solution where we can offer our clients the facility to
hire a laptop at any major city in the US, is this something you could help
with? If so could you please send me over some information on your company and
a rate sheet.
We are business travel agency based in London, England. We have a large amount
of clients who travel to the US. Look forward to hearing from you.
Yours truly
Name, address and zip withheld
Title: Business Development Manager
A Corporate Travel Company in London, England
———————————————
Answer from Tech Travel Agent, Darcy Man:
Dear Name Withheld:
Yes we can help you in any city in the US or Canada. Even in London, England.
Laptops typically rent for $99 USD and up based on location, your configuration needs, length of rental etc.
Delivery charges vary by location and are additional cost.
We can handle any computer or laptop rental need you have. We can help
you in London, England for those US travelers visiting London with the same
laptop traveling concerns.
Here is my contact information. As soon as you have any specific location, let
me know and I will get a PDF quote out to your email account.
Sincerely,
Darcy Mann
Tech Travel Agent for Rentacomputer.com
800-736-8772 x242
email me: DMann@Rentacomputer.com
More Information on Laptop Rentals and Travel:
https://www.rentacomputer.com/PR/laptop-rentals-popular-trans-atlantic.asp