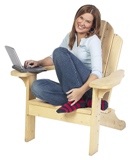 Rent Wireless Computer Training Equipment
…….anywhere …..for any length of time!
High Tech Made Easy With Tech Travel Agents!
Setting up a complete wireless classroom is easy with with a Tech Travel Agent© from Rentacomputer.com. Just tell us what you want to do wirelessly. We will provide everything you need without all the technical jargon.
PC Training Equipment Rentals for Computer Software Training
Rent 5 to 500 Computers, wired or wireless, networked and connected to the Internet or stand alone. Our qualified technicians will install all the hardware you need. We also rent LCD projectors, large displays and more. Find out how easy it is to coordinate equipment for your next training session. And wireless means no network cable mess!
Software Pre-Installed (upon request)
Your computer training software will be preinstalled when you send us a copy of your company training software, installation and testing procedures.