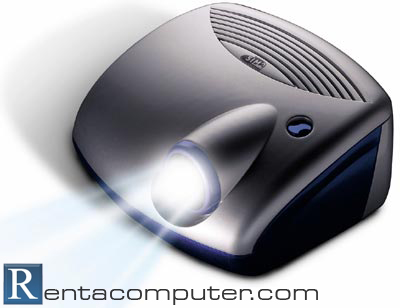 LCD and DLP projectors are available for rent and or to buy from Rentacomputer.com. So what should you do buy or rent?
That depends on price, location and convenience.
If your presentation is in another town, lugging a projector thru airports into cabs, busses, trains and subways can be a high risk hassle.
You can easily damage a projector when traveling. Tip: Never check a projector through baggage at airports either. Baggage handlers will treat your expensive projector like a suitcase.
Here is when to buy: If you are planning on using a projector at a fixed location over a long period of time, then purchasing a new projector is a good idea.
Tip 2: Never buy a used or refurbished projector unless it comes with a new bulb. Bulbs are very expensive. Projector bulbs cost between $200 to $500 for the more portable units. They cost up to $2000 for the higher end projector units.
For more information on renting or buying a projector call toll free 1-800-736-8772