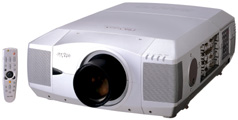 Tech Travel Agents from Rentacomputer.com now offer 10,000 lumen projectors for delivery to over 1000 cities worldwide. So what does this mean?
According to Wikipedia, "The light output of projectors (including video projectors) is typically measured in lumens. A standard 100 watt incandescent light bulb emits approximately 1700 lumens in North America and around 1300 lumens in 220V areas of the world."
It also means you can uses projectors to display the largest computer and video images than any other technology. You can virtually view a 50 foot video movie or computer generated image.