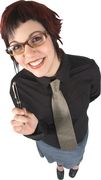 Shelly Jameson of True Tax Service has been setting up temporary offices and using computer rentals, printers and copiers for the last three years.
"It's great because at the end of the project, we reduce our staff and our tehnology." says Shelly,'the Shellsteer', as her employees call her!
Its so simple and easy, we call or email, they come in take away our excess copiers, computers and printers . If we have been saving money for 3 years by renting computers and laser printers, and returning them when we are done. No capital expenditures, all technology is expensed. So we save money on our taxes too!"



Renting technology is fast and convenient. It is the perfect solution to fill your technology gaps, especially during the tax season. Get the computers, notebooks and laptops you need for as long as you need it by contacting a Tech Travel Agent© at Rentacomputer.com.