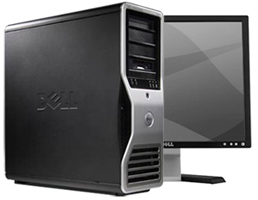 A Computer Rental for the Small and Medium Business (SMB) has been a viable option from Rentacomputer.com for over 20 years. In that time there have been tremendous changes in technology and changes in the general business economy. But now more than ever a Computer Rental is a great way for the SMB to preserve their capitol while preserving 100% of the utility of an expensive and perhaps unnecessary computer purchase.
According to a recent article in Information Week it is projected that in 2008 45% of SMB's expect to grow their business by more than 10% and 21% of the SMB's expect growth of better than 20%. While such reports are encouraging, with growth comes much risk, and a Computer Rental is an excellent choice to avert some of that risk that comes with growth.
In a growth environment a Computer Rental is a perfect choice because it can be budgeted at a fraction of the cost of a purchase and a Tech-Travel Agent can schedule your Computer Rental for delivery in over a thousand cities worldwide, usually by the next business day. A Computer Rental can also be a great choice for many SMB projects that need to have a quick start, such as those that come about when adding extra office staff, when making a presentation out of town, or even when needing to add extra file server power for a short term project.
With a Computer Rental from your Tech-Travel Agent a few benefits you can expect are fast delivery, onsite service, and a wide range of Computer Rental products such as laptops, projectors, file servers, kiosks, copiers, printers, and large screen plasma displays.
To read more about how a Computer Rental can help your SMB visit our Tech-Army Technical Forum, follow the link below to request a quick Computer Rental Quote, or call us today at 800-736-8772.