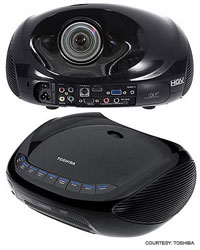 Always striving to stay ahead of the pack when it comes to offering the widest range of computer rental and audio visual rental products available on the web, Rentacomputer.com has expanded their repertoire to providing DVD Projector Rentals with local delivery throughout their entire service area in the United States and beyond!
DVD Projectors are perfect for single-purpose uses such as wedding receptions, conferences, and trade shows. Just plug in your DVD Projector, pop in a DVD, and forget it. This combination unit replaces the need for a Laptop Rental with a regular Projector Rental in this capacity, but doesn't provide all the features of having both.
A laptop and a projector together allow you more function, at the cost of transporting and setting up more equipment. For instance, with use of a laptop, you can run a Powerpoint presentation through your projector, which wouldn't be possible with only a DVD Projector combination unit. The drawback to having projector which needs to be controlled by a laptop is difficulty of use. An advanced user who is familiar with the wiring required to configure a projector to work with a laptop might find having both of them available to be the ideal situation, but a DVD Projector is perfect for the casual user who wants to plug it in and know it's going to work on the spot, without any unforeseen complications.