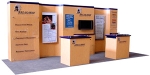 We know that our experience in the computer rental business, and having been involved in delivering all manner of rental equipment to trade shows and conventions for over 20 years, will be reason enough for our past customers to give us a call for their next Trade Show Display Rental.
However first time customers will have to be convinced that our Trade Show Display Rentals are an economical and covenant way to put up a professional trade show booth in any of the hundreds of convention centers Rentacomputer.com services daily.
Putting those 20 plus years in the technology rental business aside, first time Trade Show Display Rental customers should consider that our Trade Show Display equipment can be custom configured with signage and logos of you're choosing. Additionally a Trade Show Display Rental from Rentacomputer.com can assure that you have the best Audio Video products at the best price for your display.
Using one vendor for all your trade show rental needs, from trade show displays, tables, podiums, large screen plasmas, to traditional computer rental needs, having one rental vendor can make your job of coordinating your trade show schedule all the easier.
To learn more follow this link for our Trade Show Display Rental web page or call us today at 800-736-8772.