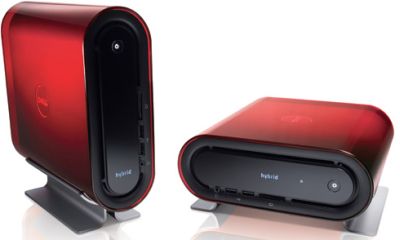 Dell has just introduced a new eco friendly and great looking desktop that brings a whole new meaning to mini pc. The new Studio Hybrid comes in at an astonishing weight of only 4.8 pounds and the dimensions are 8.3×7.7×2.8 inches. Having a desktop this small is perfect for anyone looking to have a media-room pc or a small great looking desktop to put on top of their workspace.
Dells new desktop is also one of the first eco friendly pc's out on the market that is making an attempt to go green. The desktop is 80% smaller than a standard desktop and contains about 75% less printed documentation by weight than a typical desktop. Also the desktop has one of the best psu's out on the Market with their power supply that is 87% efficient and to top it all off Dell's Studio Hybrid reports that its desktop uses 70% less power than a typical desktop computer.
This computer is perfect if you are looking for a very low profile computer that does not take up much space, looks good, and is easy to move. The only downside of its slim design is it does not offer the best performance when it comes to cost for budget desktop's. There are many other desktop's out right now that will outperform the Dell Studio Hybrid in every field, but what Dell's desktop lacks in performance it makes up in design, portability, and eco-friendly.