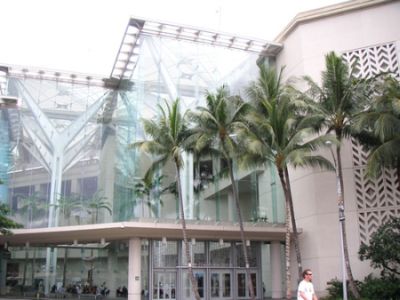 This month rentacomputer is featuring convention rentals at the Hawaii Convention Center. Computer rentals in Hawaii have been a part of everyday life at Rentacomputer.com for over 20 years.
The Hawaii Convention Center (HCC) combines the Unique arts and culture of Hawaii with a state of the art design to make it one the most breathtaking and beautiful convention centers. In fact HCC was voted the most beautiful convention center in the world by International Association of Exhibition Management. The Hawaii Convention Center is not all looks though, it is also a very large convention containing over 200,000 square feet of exhibition space, a 35,000 square foot ballroom, and 47 meeting rooms.
Even though hawaii is a small island chain in the Pacific Ocean, Rentacomputer still has over 32 Tech-Army Troops in Hawaii that are ready to meet your event rental needs.
From laptops, computers, and plasmas to projectors, kiosks, and staging rentals, Rentacomputer.com has whatever Hawaii Computer Rental you may be looking for. If you are interested in an Event or Audio Visual equipment rental for a convention or conference or are just looking for general information about the convention center, see our Hawaii Convention Center Rentals page for news, weather, and more.
Or call us today at 800-736-8772 to speak to your personal Tech Travel about your next Hawaii Rental or see this link here for a quick and easy Hawaii Computer Rental Quote Request.
*Rentacomputer.com is not affiliated with or in any way authorized by the Hawaii Convention Center. Rentacomputer.com is an independent nationwide technology rental provider and this page in no way implies exclusivity of our services at the Hawaii Convention Center.
See our full list of Trade Show Exhibit Rentals