Why Rent a Short-Throw Projector?
Short-Throw projectors are great for precisely what their name implies, projecting large and clear images from very short distances. Being able to do this makes short-throw projector rentals ideal for projecting in small and intimate settings, like small meeting rooms. So if you need to give a video presentation in a smaller space, call your Tech Travel Agent to get your short-throw projector rental.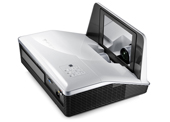 Short Throw Projector Rentals for Meetings
Since many smaller business meetings take place in spaces that do not have much room to spare, it can often be cumbersome to drag in bulky technology, which requires placement at a certain distance from the projection surface and can get in the way. This is why our agents recommend a short-throw projector rental for those smaller meetings.
Rent all Three for a Special Price
Powerpoint Projector, Laptop, & Screen Rental
In addition to your meeting projector rental, your Tech Travel Agent can also get you all the audio-visual technology you might need for a successful business meeting. So where space is an issue, let your agent get you a complete solution, which can include ultra-portable laptops and variously-sized screens