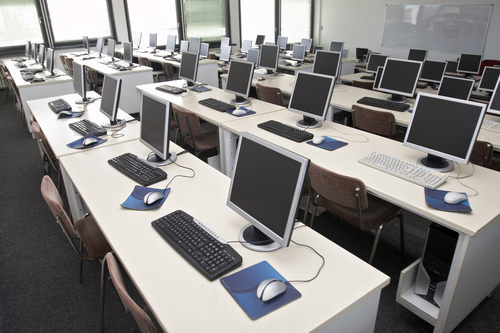 Reserve 10 to 100 Computers and projectors at a special training rate:
Contact a Tech Travel Agent at 800-736-8772 or techtravelagent@rentacomputer.com for details.
Computer based classroom training can be both cost effective and covenant when you call a Tech Travel Agent to book your hardware needs. Our turnkey classroom rental service can provide a complete line of computer and audio visual rentals, anywhere in the US, Canada, and parts of Europe.
PC Equipment Rentals for Computer Software Training
Have a need to get the staff up to speed on the newest software? Then consider booking your hardware needs with a Tech Travel Agent. A computer rental for your training class could quickly provide from 1 to 500 Computer Rentals, wired or wireless, networked and connected to the internet or stand alone. Our qualified technicians will install all the hardware you need. We also rent LCD Projectors, large plasma displays and more (See below). Find out how easy it is to coordinate equipment for your next training session.
Company Software Pre-Installed
Your exact computer training software, or system image will be preinstalled when you send us a copy of your software configuration in advance of your training class. Ask  your Tech Travel Agent about installing the latest version of Microsoft Office® for your computer software training and keep in mind we still provide Microsoft Windows 7 to insure compatibility with your corporate software.
Other Training Equipment
Laptop Rentals can be beneficial for classroom training because they offer mobility, they don't require users to be stuck at a desk. This is especially useful where trainees need to move from station to station or are moving from workbenches to desks, etc…
Projector Rentals are common for classroom training because they are great for giving presentations and lectures. Everyone in the classroom can follow along on their own PC while being able to view your screen or presentation also. Rentacomputer.com also has PowerPoint Projector Rentals which come loaded with Microsoft PowerPoint, ideal for classroom training presentations.
Plasma Display Rentals are also great for classroom training because they add a visual dynamic to the learning process. We off a variety of sizes that will fit your training classroom best. Plasma TVs can also be hooked up to the trainer's computer for presenting and having others follow along. Projectors and Plasma Displays alike have great picture quality and will improve any training lecture.
For more information, visit our Classroom Training Rentals page
Content Source: Classroom Training Rental Equipment