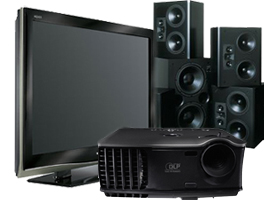 Tech Travel Agents from Rentacomputer.com are your single point of contact for audio visual rental equipment in over 1500 cities worldwide. Audio Visual Rentals are great for all types of events, both business-oriented or for personal use. Our friendly Tech Travel Agents can assist you in getting everything you need for your event.
Events Serviced
Our Tech Travel Agents specialize in rentals for events like conventions, trade shows, conferences, meetings, training sessions, computer labs, break out rooms, promotions, marketing, press conferences, weddings, and much much more!
Rental Products
We provide a full line of top quality Audio Visual Rental Equipment including:
Projector Rentals, Monitor and Plasma TV Display Rentals, Sound System Rentals, Lighting Rentals, Video Wall Rentals, Electronic Copyboard Rentals, Kiosk Rentals, Video Camera Rentals, IMAG Rentals, even Staging Rentals and Pipe and Drape Rentals.