Gathering data on market trends can be a vital tool for conducting successful business. Many companies even hire employees whose only task is to survey their client base or potential clients with various queries pertinent to their business and services. There are also companies who specialize in conducting survey campaigns, which other businesses outsource to them.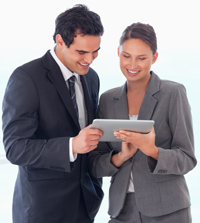 Recent developments in tablet computing technology have contributed to the ease of data gathering and organization. As survey administrators have the task of approaching large numbers of people in order to survey them, traditional means of data acquisition and organization can be inefficient and cumbersome. Using tablet computers the administrators can quickly approach people in a targeted market, computer in hand, and easily enter the data into the appropriate apps and databases using intuitive touch navigation.
Not only does tablet technology facilitate the administrators tasks, but it also allows him or her a higher degree of freedom to interact with the surveyed person. Rather than being stuck behind a desk or laptop computer, the admin can approach the potential survey taker themselves, and maintain a more personal disposition while he or she is sampling the input from the surveyed.
Rentacomputer.com is now offering Tablet PC and iPad Rentals For Survey Administration. Some of the most popular tablet computers are: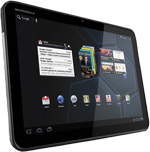 Motorola Xoom:
The Motorola Xoom Tablet is a very nice tablet PC, it runs a dual-core processor with Android software, and has mobile HD video.
Samsung Galaxy Tab:
Samsung's Galaxy Tablet is a very impressive tablet that is also very affordable. It is known for being lighter and more compact than most tablets, but still packs some computing power.

iPad:
The iPad is very thin, very light and easy to lug around. With various storage capacity choices of 16Gb, 32GB, or 64GB, an iPad 2 rental is more than capable of handling any on-the-go data tracking task.