Technology, as everyone knows, has fundamentally changed how business is done in practically all fields. Even in fields such as construction and manufacturing, which are more physically demanding, some kind of IT structure must be maintained. Computers however, are usually not well-suited for the harsh and physically demanding environments that are typified by the construction industry, especially for workers out in the field.
Luckily there are computers that are perfect for these conditions, having mobility as well as the hardware to withstand harsh physical punishment: Rugged Tablet Computers. Rugged tablets function in the same way a normal tablet computer does, but they are capable of maintaining their functionality in spite of drops, spills, dust and extreme temperatures. Your company's construction or factory workers can stay connected to the information they need access to, even when working in environments that a typical computer would never survive in. Not all rugged tablets are created equal; they come with various navigational functions and various degrees of ruggedness, from business or semi-rugged, to fully rugged military grade.
What Makes a Tablet Rugged?
Rugged tablets usually have the following features: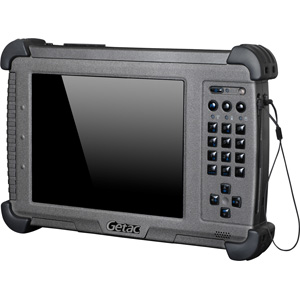 Metal Alloy Casing: Heavy-duty casing that provides extra protection against bumps, jolts, and falls.
Tempered Glass Displays: Tougher glass display to prevent cracking or splintering.
Outdoor-Readable Displays: Screens that can be read indoors or out.
Shock-Mounted Hard Drive: Internal hard drives that are mounted in shock-absorbing materials.
Spill and Dust Resistance: Sealants prevent liquid and dust from getting inside.
No Fan: construction with no fan or vents which can expose internal components.
Sealed Ports and Slots: Unique sealing to protect vulnerable areas where liquid and dust could easily enter, such as PC card slots.