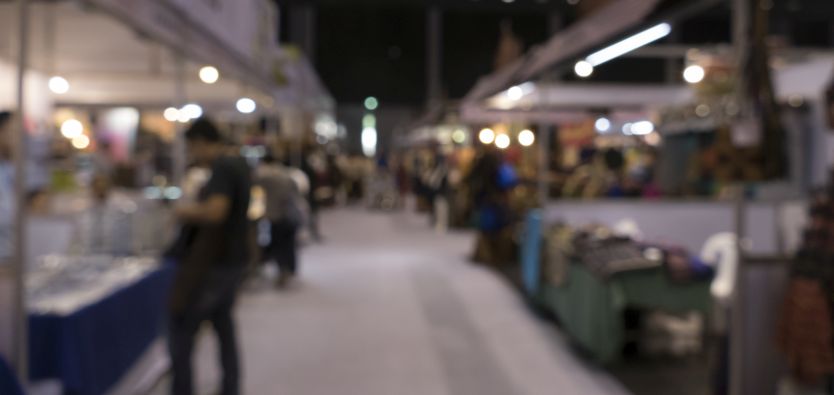 Trade shows are a great way to meet a massive number of prospects in one location over a two or three days period.
However, given the competitiveness of getting attendees to your booth, cost of each trade show and those darn drayage fees, it shouldn't be a surprise that you need to find ways to improve your ROI. One way is to draw attendees in. Another is to reduce expenses.
This blog will give you ways to address both.
Trade Show Tricks Toward Clarity
1. Know your purpose.
Don't attend a trade show just because it's sponsored by a member organization or it's in your town. Make sure the trade show will meet one or more of your objectives:
a. Increase qualified leads.
What is the number of leads you are looking for is it reasonable to get there?
b. Sell products.
Some trade shows allow you to market your wares or take orders. If that is important, qualify what you can do and cannot do.
c. Get exposure.
If your company is new or you want to launch a products or service, this may be the perfect opportunity to do so.
2. Design your space.
Before ordering backdrops, artwork and technology, find out the following:
a. How big is your space? Obtain the exact length, width and height.
b. How many people will you bring to the show? Smaller spaces require less people. If you have too many people, attendees may pass you by.
c. Do you have to rent items from the show manager or can you deal directly with your supplier? Some shows require all booth rentals to go through the manager, some don't have a firm policy.
d. Will you have lighting and electricity in your booth? If so, how is it provided? Figure out what you need and if the space you are planning on securing can meet your needs. You may need to move to obtain what you need.
e. How is the Wi-Fi? Complete a speed test. You may need a hotspot rental if the venue's bandwidth cannot meet your needs. No Wi-Fi? No problem! Rent a Verizon 4G hotspot for your event.
f. What event rentals do you need?
3. Make your space welcoming.
Rather than going with a standard backdrop, eight-foot table, two chairs and some technology, do this:
a. Ditch the status quo.
Replace with colorful, comfortable seating and a coffee table that looks more like your livening room. This will help spur on conversations.
b. Add cell phone charging stations.
While each attendee's phone is charging, you have an opportunity to familiarize them with your products and services.
c. Provide snacks and refreshments.
At a large show, attendees welcome this.
d. Make it fun with an Instagram frame for photo taking or Virtual Reality headset rentals for playing games.
Reduce Drayage Costs
Drayage is the movement of your exhibit shipments from the carrier's vehicle to your trade show booth. The fee is based on CWT. Here's an example: A 1,000-pound shipment would be 10 CWT. The show's drayage rate is $85 per CWT. Therefore, the drayage would be 850 dollars.
Here are the ways to reduce your fees:
1. Evaluate your freight.
Review all items and see if you can get rid of or digitize them. One way might be to remove all marketing collateral. Use television rentals instead to loop your message.
2. Pack carefully.
Make good use of the space. Replace clunky booth items with smaller, lighter models. Constantly evaluate and ask the question, "Do I really need this?"
3. Don't be late.
Follow the scheduled move in/move out dates. If you miss your dates and times, you may be charged more.
4. Rent Everything.
Let your trade show rental company handle as much as possible. They pay the drayage fees. They setup and strike your equipment. Plus, they are responsible for any missing or stolen items and can replace those items right away.
Rentacomputer.com is Your Trade Show Partner
Consider partnering with a national exhibit event provider, like us! We help you make the most of your space, deliver your equipment on time and set it up right where you want it. Working with us, you avoid expensive shipping and drayage charges. Send us an email rentals@rentacomputer.com, text 908-485-7368 or call 800-736-8772 to learn more!
Want to share this story on social media? Use these hashtags!  #Events #EventProfs #Tech