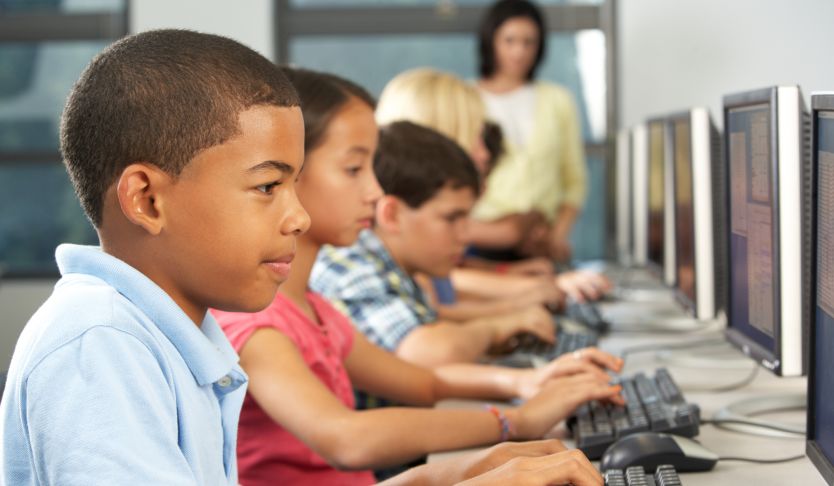 While it may seem a bit counter-intuitive, playing video games strengthens cognitive skills such as reasoning, memory and spatial navigation, according to the American Psychological Association. That is great news, right? However, do you want your child to spend hours upon hours this summer playing games in the family room, or would you like to challenge their developing young minds?
From Playing to Developing Video Games
Jump from playing to development may seem like an impossible task for your child, but there are camps for children of all ages and levels.  STEM Camps can be especially engaging if your child is already in or focused on the Science, Technology, Math and Engineering (STEM) school program because game development uses all of these skills.
Games for Change and the National STEM Video Game Challenge are two contests that students can enter as an additional end goal.
A Growing Field
Still not convinced about video game development? Here are four statistics to keep in mind:
● The United States has the largest video games presence in the world in terms of total industry employees.
●  In 2004, the U.S. game industry was worth $10.3 billion.
●  In 2017, its revenue reached $23.5 billion, more than doubling its position in 13 years.
●  The annual salary of a video game developer can range from $79,000 to $114,000.
What Parents Should Ask When Considering a Coding Camp
Here are eight most common questions:

1. Will my child develop a game from start to finish that includes design and coding?

This has to be a yes, and should be your overall objective.
Will they build 3D immersive games?
This is very dependent on the camp you send your child to, but for competitions like the National STEM This is where VR and AR take shape and may be for a more advanced student.
What software will be used?
Some of the most popular programs are:

      ● Microsoft MakeCode
      ● Minecraft
      ● Code
      ● Ohbot

      ● Scratch
What hardware is provided?

The ideal camp will provide the following:
● Desktops

● Monitors
● Computer Servers
● Virtual Reality equipment (for really advanced camps)
Will my child meet or be taught by professional video game developers?

Ideally, this answer should be yes, but honestly, it will vary depending on what camp you send your child to.

Are girls encouraged to attend?
Since girls represent less than 20% percent of all students attending STEM camps, this has become a focus for many teachers, parents and camp counselors. Girls are strongly encouraged to attend.  
What ages do these camps serve?
Many camps start taking in children as young as six years old, and the upper age limit is often 17 to 18 years old.
Rentacomputer.com is a National Tech Camp Provider
As a video game tech camp coordinator, top quality products are expected when your campers arrive. We are your one point of contact for your PC video gaming equipment rental needs, including desktop rentals, server rentals, and computer lab equipment rentals. This includes taking your order, arranging for delivery, managing installation and handling your pickup. Give us a call at 800-736-8772 to learn more about the ways we can help you!
Want to share this story on social media? Use these hashtags! #GameDevelopment #Tech

Subscribe to our blog today to stay up-to-date with Rentacomputer.com and follow us on social media. Join in the discussion by commenting below.