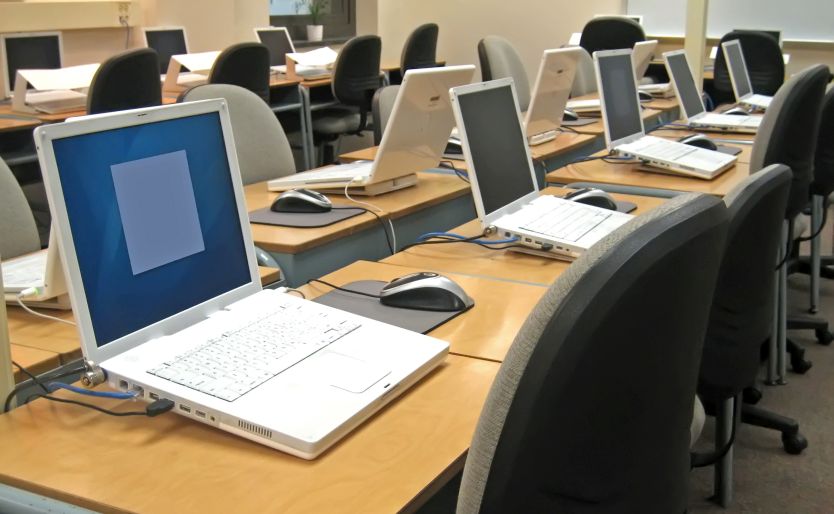 At Rentacomputer.com, we are experts in computer lab rentals for user conferences and enterprise system training. With years of experience and accumulated industry knowledge, we're the number one answer to all your computer lab training needs.
Our promise is high-end computer lab rental support for your software or system user conference. Gone are the days of stumping technical bugs, clunky hardware needs, and time-consuming pre-game set up. We'll take care of all that so you can focus on what you do best: training your users and providing top notch customer service.
Our staff has been carefully selected and intensively trained in end-to-end computer lab set up and configuration. That's why you can count on us to expertly prepare your lab space and troubleshoot all technical issues on the spot. No more interrupted sessions– our team sets up all technology and ensures reliability throughout your presentation. Even better, we are flexible and receptive to any special request you need to make your training run as smoothly and effectively as possible. We know every client is different, as is every session. That's why we happily adapt our solution to your specific needs.
Make your next conference a major success. With our services, you can concentrate your energy and efforts on what matters most: educating and helping your users. We empower you to be as helpful and accommodating as possible, increasing user competence, knowledge retention and comfort. We know that will translate into happier customers, more sales, and better brand awareness.
What are Computer Labs?
We specialize in setting up training computer labs– a combination of computers, workstations, servers, and monitors, all set up and ready to be used by your users and training staff. We ensure all computers are identically imaged to your specifications. Many of our customers include enterprise software companies showcasing product workflows and usability to customers, often in big conference settings. We play an instrumental role in their trainings by creating a seamless computer lab environment, leading to smooth, trouble-free sessions.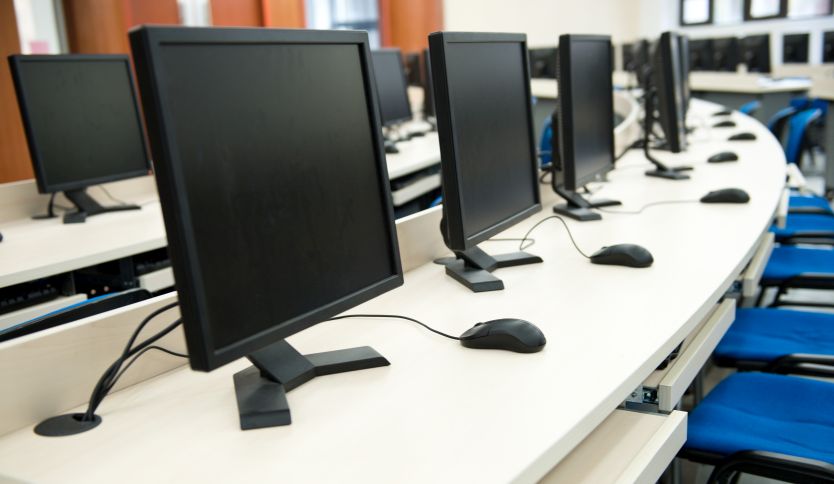 Why should you get a computer lab rental?
All event planners and software wonks excel when they can focus on their area of expertise. We make this possible by taking a few things off your plate. For one, we transport the fragile and expensive computers, monitors, and switches to your conference environment. This process is logistically complicated and can be risky to do without expertise, knowledge, and experience. Thankfully we have all three, and are here to share it with you.
We also help clients leverage the benefits of our robust technology. No matter how complex or intensive your software is, we've got a solution for you. Our dedicated technology experts are happy to work with you to determine the technical requirements you'll need to make a good impression on your customers. We ensure your users stay highly impressed with the speed and reliability of your product by providing the optimal computing hardware.
Why hire us?
We've invested in state of the art hardware and posses years of experience, all of which serves one purpose: helping you put on the best training possible for your users. We know the equipment like the back of our hands and will support you and your users throughout the conference experience. Our caring staff is eager to support your process end-to-end, from the moment you call us through the end of your successful training. Our staff will even stick around during the conference, ready to fix any issues that may arise. We focus on the tech so you can focus on your product.
We know user conferences are a big part of the enterprise software business. That's why we're eager to share our computer lab rental expertise with you to help your company put on the perfect user conference.
Want to share this story on social media? Use these hashtags! #EventProfs #Events #TechRentals