If you had a disaster and your users were without company computing power, what would you do?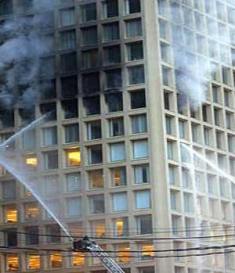 You could panic or you could call a Tech Travel Agent from Rentacomputer.com.
Tech Travel Agents provide fast Disaster Recovery Service including computer rental, delivery, installation and computer network engineering / technical services.
Tech Travel Agents get you back up and running fast!
Call 800-736-8772 or email TechTravelAgent@rentacomputer.com if you are currently in a disaster situation.
Unexpected Service for the Unexpected Disaster
A disaster often happens at the worst possible time. Network crash, fire, floods and theft are the most common disasters to shut down a business. If you have a disaster and need equipment fast, contact a Tech Travel Agent at Rentacomputer.com.
In most cases, some computer equipment will arrive at your designated location within a few business hours of your phone call.
Hardware Relocation Service

If your current business location was damaged beyond use, Tech Travel Agents can help you relocate your technology. Engineers, cable guys and installers work together to set up your temporary or permanent facility anywhere in the United States or Canada. Everything you need to get your network back up to full speed immediately.
Fast Response Time is Top Priority
Tech Travel Agents© from Rentacomputer.com know if you are recovering from a disaster, theft or other network outage, time is the top priority! Within minutes of your web inquiry, phone call or email, your server and network configuration is reviewed by our engineering staff.
Final specifications are put into the hands of Tech Travel Agents and equipment is located. Often, some equipment can be delivered within four business hours of an order confirmation.
Software Configuration Service
Any software can be pre-installed on rental servers or rental computers.
Images may be stored at a central configuration facility or made available though internet connected facility.
All businesses should have at least thought about contingency planning. Businesses that are heavily dependent on computer access should have a written plan that evolves with the computer network. Keep your important company data in more than one place, storing one copy off-site for your best protection.
If you have the data, we have the hardware, operating systems, software and engineering staff to get you back in full swing fast.
For specific information regarding computer rentals, server rentals, laptop rentals or other technology rental for your disaster recovery plan visit Rentacomputer.com at https://www.rentacomputer.com/ call toll free 800-736-8772 or email TechTravelAgent@Rentacomputer.com.