If you had a disaster and your users were without company computing power, what would you do? You could panic or you could call Rentacomputer.com.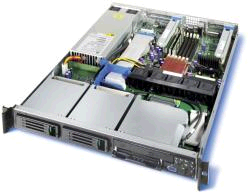 A disaster often happens at the worst possible time. Network crash, fire, floods and theft are the most common disasters to shut down a business. If you have a disaster and need equipment fast, contact Rentacomputer.com. In most cases, some computer equipment will arrive at your designated location within a few business hours of your phone call.
All businesses should have at least thought about contingency planning. Businesses that are heavily dependent on computer access should have a written plan that evolves with the computer network. Keep your important company data in more than one place, storing one copy off-site for your best protection. If you have the data, we have the hardware, operating systems, software and engineering staff to get you back in full swing fast.
So for computer rentals including complete networks, call your Tech Travel Agent at Rentacomputer.com, 800-736-8772.