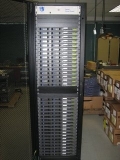 Did you know Rentacomputer.com has been providing File Server Rentals since 1987?
In those 20 plus years we have delivered and installed server rentals all across the United States, Canada, and Europe saving our customers countless millions as compared to the cost of purchasing the server equipment.
Top Reasons to Rent Your Server Hardware from Rentacomputer.com:
* Server rentals can be delivered right to your data center, office, or training facility anywhere in the U.S. or Canada, and they can often be there faster than a traditional purchase.
* Server rentals are a cost efficient solution to your short term need for any level of extra processing power. From a data migration project, a render farm for an animation project, to the ever so common proof of concept or software development project, a server rental is a perfect scalable short term solution.
* Server rental inventory includes: Sun Midrange and Enterprise Level Servers, Blade Servers from IBM, Dell, or HP, and Rackmount and Desktop File Servers from major manufacturers such as Compaq, IBM, Sun, and Dell. Don't forget our servers can be configured with your choice of Intel, AMD or Motorola/SPARC CPU configurations.
* All server rentals from Rentacomputer.com include a complete line of accessory options including: Storage Solutions such as Tape Libraries, SAN or NAS Devices, Fiber Channel Adapters, Routers and Switches, Full Height or Half Height Racks, KVM switches, Rackmount LCD Monitors, Power Distribution Units and more!
Remember, our Tech Travel Agents not only supply server rentals but also a complete line of technology and event rentals. So, when your next project, training class, sales presentation, or event, calls for extra hardware, remember www.Rentacomputer.com is your one stop solution.