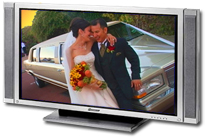 While Rentacomputer.com mostly does business to business technology rentals, we always offer our services to non-business customers who need the rental for personal usage.
Personal Technology Rentals are great for events such as weddings, anniversaries, family reunions, and birthday parties. With a projector rental, laptop rental, or plasma flat screen TV rentals you could be showing off photos and videos to family and friends. Perhaps you are a student and need a quick laptop rental for typing up a report, doing research, or for a Bar Exam. Or maybe you are going to be on vacation or will be staying in the hospital for a few days and want to have a laptop to keep you connected, entertained and productive.
With so many products and several uses, we have been seeing a large increase in personal rentals. So for your next personal event, call Rentacomputer.com at 1-800-736-8772 for a fast quote from one of our Tech Travel Agents.