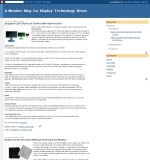 Thinking about what type of big screen display to rent for your next trade show? Wondering if that new Dell 23″ LCD is as good as the commercials make it look? Well then you sould pay a visit and hopefully even bookmark our new blog dedicated to monitor technology.
The new blog is simply called "A Monitor Blog" and even though we know that phrase is used by a lot of other people who are not talking about display technology we are confident that over time we will have the traffic and links to rank highly in the search engine results for that phrase. After all this truly is a Blog about monitors!
Right now our main contributors to the blog are Mike Howard and Alexander Solis. Both experienced employees of Xponex media, and dedicated technophiles, who write on behalf of www.Rentacomputer.com.
We hope you have the chance to check out the blog and if you have any suggestions for a post feel free to send us an e-mail at
web@xponex.com.
Of course for your next computer or audio visual rental need be sure to visit the internet's most visible vendor at their Nationwide Computer Rental website.