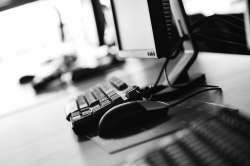 Rentacomputer.com is one of the nation's largest suppliers of Computer and Audio Visual technologies for use in short-term business rentals. This means our rental inventory is constantly expanding and when we get equipment back from rental, we refurbish, re-tune, and make sure the equipment is in excellent working order before offering the equipment on our Tech Army PX. You could save hundreds of dollars by purchasing refurbished equipment over brand new. Here are some of the "Just Back From Rental" technologies that have been refurbished and are currently up for sale.
IBM ThinkPad T60
The ThinkPad T-series can be thought of as the flagship of the ThinkPad brand, it's squarely targeted towards business users and professionals. Durability, security, usability and performance are all important characteristics of the ThinkPad T-series. The T60 itself carries on these traditions with a jump in performance from the previous T43 model and some changes to configuration options available and the port and keyboard layout.
HP Compaq NX9420 Notebook
The HP Compaq nx9420 is designed for power users looking for the most robust notebook in HP's Business Notebook line. It combines mobile computing technologies, high-end graphics, and excellent battery life into a thin and light package.
Dell Latitude D610 Mobile Laptop
The Latitude D610 is designed for enterprise customers who want flexibility, mobility and convenience in the workplace. These are customers looking for a durable notebook offering the ideal blend features and performance. Starting at less than five pounds, the D610 delivers all the performance you need. Nothing You Don't. All at your fingertips.
HP Compac TC4200 Tablet PC
The HP Compaq tc4200 Tablet PC is a power-packed ultra-mobile tablet that is a full-function PC designed to simplify the on-the-go professional experience with the added convenience of handwriting.
HP DC7700 Dual Core Desktop PC
Features a wide selection of manageability tools and long lifecycles with managed transitions help maximize productivity in your managed IT environment allowing for more efficient planning and deployment. • Dual Core technology helps compute larger amounts of information more efficiently.
Compaq Evo D500 Desktop PC
The Compaq Evo desktop family is defining the next era of corporate computing. By introducing an evolutionary line of manageable computing solutions for demanding networked environments, the Evo desktop family offers corporate customers a wide range of secure managed solutions.
If you are interested in any of our Just Back From Rental, inventory then check out our Tech Army PX which also lists some of our rental inventory. Or, if you have any questions or concerns feel free to contact a Tech Travel Agent today by calling 1-800-736-8772 or by e-mail at techtravelagent@tech-army.org <techtravelagent@tech-army.org>
</techtravelagent@tech-army.org>