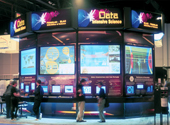 If you are running a booth at any kind of trade show, a Tech Travel Agent can serve as your one point of contact for all the technology you could ever need for such an event. It is important that your booth be more visually captivating than contiguous booths, and with various kinds of audio-visual rentals from a Tech Travel Agent, you can put together an impressive booth without the headaches of pulling technology together from various sources.
We know how difficult it can be to get your trade show booth set up and looking great! That is why we only deliver top quality state-of-the-art equipment to your trade show booth. We make getting technology to your trade show easier by delivering it directly to your trade show booth or conference and handling any setup or installation.
If you're planning to exhibit at a trade show or convention in the near future and you're looking for a way to spruce up your exhibit and attract attention, trade show equipment rentals are a great idea.
Rentacomputer.com has a full line of Trade Show Equipment and Computer Rentals including, but not limited to: Laptop Rentals, Tablet PC Rentals, Projector Rentals, Plasma Display Rentals, Pipe and Drape Rentals, Video Wall Rentals, Kiosk Rentals, and much more!