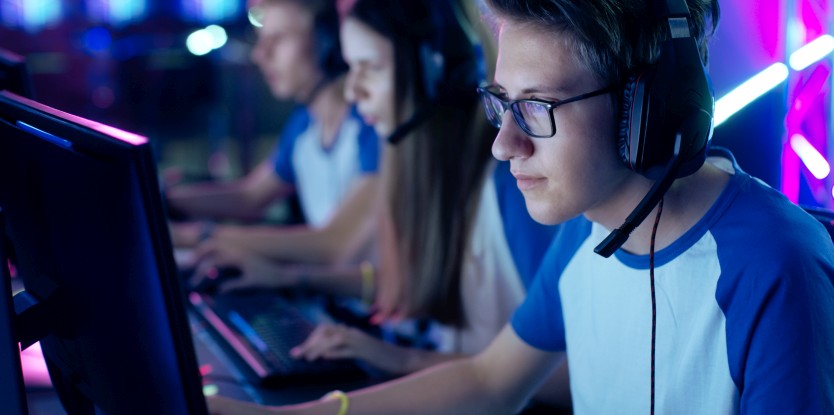 Fans flood to an arena wearing their team jerseys. They come early and stay late trying to get their favorite player's autograph. They watch, they cheer, and they hope. These fans are not rooting for their favorite baseball team; they are sitting in a stadium watching gamers as far as a half-world away compete in a tournament.
This blog post will identify many elements of this emerging sport and how and why your organization may wish to get behind it.
eSports Definition
Electronic Sports, or commonly referred to as eSports, is a player competition where there is only one winning individual or team. The most popular games are Multiplayer Online Battle Arenas (MOBA), Real-Time Strategies (RTS), First Person Shooters (FPS) and Fighting.
The more popular games include: League of Legends, Dense of the Ancients 2, Call of Duty: Black Ops 2 and Starcraft II.
eSports Stats
The growth in this field is like no other. Here are just a few of the most interesting figures:
• eSports companies have raised more than $5 billion in venture financing.
• There are 1.2 billion gamers around the world.
• Newzoo estimates that eSports revenues will hit $700 million this year, representing a 43% increase in year-to-year growth.
• Sponsorship dollars are expected to be $655 million by the end of 2020.
• There are more than 300 eSports leagues in existence today.
• According to Newzoo, the eSports global audience in 2016 was 292 million.
• League of Legends has more than 100 million players each month.
• The League of Legends Finals attracted 58 million online viewers and packed 80,000 people into the Beijing National Stadium last November.
Sponsorship Opportunities
• There are plenty of corporate sponsorships opportunities of athletes, leagues and/or events.
• This is a much younger audience, where 50% of the players and viewers are between the ages of 21 and 35 and 27% between 10- and 20-years-old. That only leaves 23% of the audience more than 35 years old.
• In addition, many players and teams are international, with the US representing a small market share of professional players.
History
eSports have been around for over 40 years. Here are the historical highlights:
1972: The birth year of eSports. 24 students played Spacewars where the winner received a yearly subscription to Rolling Stone magazine.
1980: 10,000 players battled for the win with Space Invaders.
1997: The first gaming league is formed. The FPS game, Quake, was played and the winner received a Ferrari.
2000: The Electronic Sports World Cup and World Cyber Games were formed to allow for international competition. Over 800,000 participants competed that year from over 78 countries. Over $2 million in prizes were awarded that year alone.
2002: Major League Gaming was born, increasing the number of events and types of games being played.
The Persona of an eSports Player
The demographics of a typical player are:
Male
20-41 years old
From South Korea, Denmark, United States, Sweden or China
Becoming a professional player requires hours of play and winning multiple tournaments. There are 24/7 eSports cafes in South Korea where players hang out for hours at a time and where there's a wait list for seating.
There are many gamers who are now part of a team. Colleges and universities are actively recruiting students to play for them.
Concerns about Gaming Addiction
According to the University of New Mexico, recent studies suggest that 6-15% of all gamers exhibit signs that could be characterized as addiction.
Here are the signs:
Feelings of restlessness and/or irritability when unable to play
Preoccupation with thoughts of previous online activity
Lying to friends or family members regarding the amount of time spent playing
Isolation from others
Fatigue
Migraines
Carpal tunnel syndrome
Poor personal hygiene
It comes down to balance. A professional gamer treats this like a job and detaches from the technology at the end of the evening. An obsessed gamer constantly thinks about it and exhibits some, if not all, of the signs listed about. If this is you or someone you know, unhook and seek immediately help.
What Hardware is Required?
For gamers to succeed and potentially win the contest, each player needs:
The latest high-performance, durable gaming computer with an integrated graphics card
A large, high resolution monitor
Communication headset
SCUF controllers or computer mice (Depending on Tournament)
Some games require Virtual Reality headsets
Very fast Wi-Fi or Fiber Network
The whole system must be tested and glitch-free as the littlest of problems can cost an individual the championship.
What are Future Trends?
Quantum Computing:
This is the next generation of computing and will allow for much faster processing and more options for gamers.
More Mainstream Access: Hulu, Turner Sports and Facebook have deals with Twitch, YouTube Gaming and ESL to livestream matches and show weekly highlights to their fans, much like major league sports provide today. When eSports obtains a broader sponsorship appeal, like McDonalds and Pepsi, this will also cast a wider broadcasting net.
Olympic Status: It's quite possible eSports will be included in the 2024 Paris games.
The New Football: Many colleges have started developing their own esports collegiate teams. Currently, dozens of colleges across the country have them.
More Virtual Reality Games: As VR goes wireless and more games are developed for this format, look for these types of games to gain traction.
Brought to You by Rentacomputer.com
We offer a full line of technology rental equipment. Our dedicated agents work with you from start to finish to ensure a seamless experience. Call us today at 800-736-8772 to learn more!
Want to share this story on social media? Use these hashtags! #gaming #eSports #tech