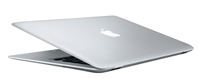 Rentacomputer.com is proud to announce that it has added Apple Inc.'s newest laptop, the MacBook Air, to their rental inventory. This sleek, ultraportable laptop has the industry going crazy about its amazing features.
The MacBook Air weighs in at an astounding 3 pounds and sports a 13.3″ widescreen LED backlit display with 1280×800 resolution. Whats more amazing? The MacBook Air is a staggering 0.16 inches at its thinnest point and 0.76 inches at its widest point. The MacBook Air is also equipped with iSight, a small built-in camera, and iChat software for video chatting and video conferencing anywhere you have access to a wireless network.
Mac users rejoice! Now you can get this state-of-the-art laptop whenever you need it, wherever you need it!