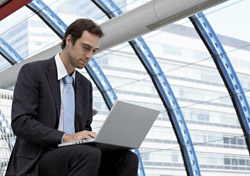 With laptops becoming less expensive to buy you may wonder why should I rent a laptop for a business trip when I could just buy one of my own or just bring a laptop I already own. Well there is a very logical reason that is becoming bigger every year.
The fact is laptops are one of the most stolen items when someone is traveling. Dell recently did a survey about laptops being stolen in airports and here is the staggering results the survey reported.
"Close to 10,278 laptops are reported lost every week at 36 of the largest U.S. airports, and 65 percent of those laptops are not reclaimed, the survey said. Around 2,000 laptops are recorded lost at the medium-sized airports, and 69 percent are not reclaimed."
So now the question is how do you prevent yourself from loosing your laptop or prevent it from being stolen at an airport? Well there is a very easy solution to this problem that is becoming more and more popular, you just rent a laptop. Renting a laptop is so easy and cost effective. Starting price for renting laptops start at just $100 dollars and better yet you do not even have to worry about bringing it through the airport because you can have it delivered to you personally or shipped straight to your hotel, depending on your quantity and situation. So what do you have to loose! You can receive a free laptop quote right now at Rentacomputer.com or contact a tech travel agent at 1-800-736-8772.