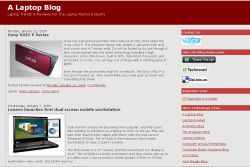 Interested in information about laptops, notebooks, pda's, ultra-portables and the latest news in mobile technology? Then stop on over and take a look at one of our most popular blogs simply known as "A Laptop Blog".
This laptop blog basically entails everything laptops to keep you, the consumer and enthusiast, informed. Find out about the latest models from Dell, Asus, Sony, HP, Apple, Lenovo and more or even check out our bargain buyers guides to help you find laptops for less. We even cover laptop networking, external hard-drives for laptops, wi-fi, solid state drives, graphics cards, laptop backpacks, if it has to deal with laptops, we have probably covered it.
The main contributors to this blog are Mike Howard, Alexander Solis, Kyle Thompson, and Woodio, who are all extremely tech savvy individuals and dedicated employees to Xponex Web and Media. So what are you waiting on, check out the blog and feel free to leave a comment or even send us an e-mail on topics you have questions on or would like to suggest. We also offer an assortment of Laptop Rentals for students and business professionals looking to travel.