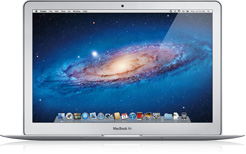 Apple's MacBook Air is one of the thinnest (less than an inch), lightest and most portable laptops on the market and every bit as powerful as a larger laptop. They are great for on-the-go business users or even users on vacation who value the mobility of the MacBook Air. Because it is so versatile and portable, MacBook Air Rentals are among some of the most popular Laptop Rentals.
Thin & Light
The MacBook Air boasts an ultrathin and ultralight design, coming in at less than 3 pounds (2.38 lbs for the 11.6″ and 2.96 lbs for the 13.3″) and less than an inch thick (or should we say thin) at 0.68 inches at its thickest point. You can be assured that the MacBook Air is the definition of an ultraportable laptop – thin, light and it can pack a punch.
High Performance Features
The MacBook Air boasts a lot of great features. Apple MacBook Airs are equipped with the latest generation of Intel Core i5 and i7 processors which gives them faster processing performance over the previous generation of MacBook Airs (up to 2.5x the performance). MacBook Airs also feature the Intel HD Graphics 3000 processor, for a better video playback experience. In addition to Intel processors, the MacBook Air is equipped with a multi-touch trackpad that recognizes unique gestures. Additionally, it sports a backlit keyboard, an all-flash storage, long-lasting battery, and a video camera.
Interested in renting one of these light and powerful machines? Call a Tech Travel Agent from Rentacomputer.com at 1-800-736-8772 to get a quote today or check out our Apple Rentals