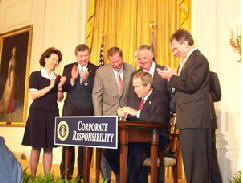 CPA Accounting firms are bringing in additional temporary staff and temporary technology to increase billing this tax season.
Photo: President Bush signs the Sarbanes-Oxley Act
Many firms are contacting a Tech Travel Agent© to reserve computer rental equipment for the upcoming tax season.
Accounting firms will be even busier than normal this tax season thanks to the Sarbanes-Oxley Act and other changes in the federal and state tax codes.
"Its an 'accountant's market' because of the large amount of work there is out there. We are getting more things done by bringing on additional computers, printers and copiers for four months this tax season." said Ted Abrams from Abrams Tax Service.
Shelly Jameson of True Tax Service has been setting up temporary offices and using computer rentals, printers and copiers for the last three years. "It's great because at the end of the tax season, we close our extra offices and the computer rental company removes all the technology. Its so simple and easy . If we had known there were companies out there renting computers and laser printers, we would have done this before."
Renting technology is fast and convenient
It is the perfect solution to fill your technology gaps, especially during the tax season. Get the computers, notebooks and laptops you need for as long as you need it by contacting a Tech Travel Agent© at Rentacomputer.com.
Connect with a Complete Temporary NetworkNetworking services are available too! If you need your computers networked, wired or wireless, you can have everything setup and networked by contacting your Tech Travel Agent©!
Other Rental Equipment to Consider
Projectors, Large Plasma Flat Panels, Copiers, printers, and fax machines are also very popular rental equipment for accountants too! Contact a Tech Travel Agent at https://www.rentacomputer.com, email rentals@Rentacomputer.com or call toll free 800-736-8772. For more information on Tech Travel Agent Services visit: http://www.TechTravelAgent.com