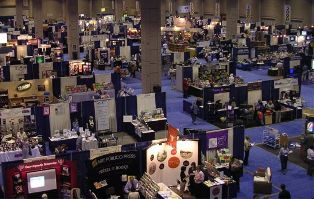 Ever pay $100 to rent a 10'x10′ worn out piece of carpet?
How about $100 for a folding table or $50 for a chair? I have, many times. Ever try to get a folding table and chair on an airplane?
Hotels and convention centers know that most people will pay a high price. That same pricing philosophy applies to technology rentals like projectors and plasma flat panel displays.
In-House AV Service Companies Charge up to 100% More
Hotels and convention centers often have an "In-house AV service company." They charge a rate that is substantially higher than rates charged by a Tech Travel Agent© from Rentacomputer.com.
Hotels and convention centers have a 'captured audience' and can charge higher rental rates. After all, who else can help?
Often times that rate can be as much as 100% higher! You are paying for the convenience of the hotel or convention AV service. Warning, don't depend on the hotel to have the equipment you need. Often times, in-house AV equipment is in less than optimum repair. That's because a hotel does not have a computer shop that can keep sensitive AV equipment stored and adjusted properly.
Do you need notebook or laptop computer rentals, projectors, wireless microphones, plasma flat screens, or other technology rental at a hotel or convention center? Book your tech rental equipment with a Tech Travel Agent and save up to 50% over "In-House AV" rental rates.