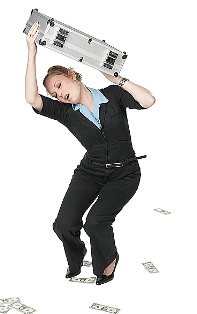 Even if you own all the equipment you need for a computer training session you will save time, money and aggravation by using a Tech Travel Agent from Rentacomputer.com.
Consider the value of your time. Now add in the costs to buy computer equipment, logistics of computer equipment, storage of computer equipment, repair costs, and depreciation.
If you consider all the costs, you will find that renting computer equipment for classroom training is not only the easiest solution for trainers, it is really a great value.
Reduce Technical Labor Expense
By renting the equipment from a Tech Travel Agent, you get technical expertise on location! Computer technicians can be scheduled before, after and during your computer training class. If a problem should arise, computer technicians can be dispatched at a moments notice. Technicians carry replacement parts and equipment to get problems resolved fast.
Extra Backup Computers on Site
More good news, if you rent more than ten computers for a classroom training session, additional computers can be provided as backup!
Training program organizers know how difficult it can be to ' work out all the bugs' before, during and after each training program. Execution is the key to training results and efficiencies. If not enough computers work properly, you can have a real classroom training and financial disaster on your hands.
Reduce strees, save money and stay focused on your core competency…your training program. Rent Projectors, microphones, computers, laptops and plasma flat screens for your next training event.
For more information about Renting Technology, Visit our website at The Original Rentacomputer.com