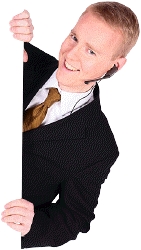 It's been said that Arizona offers some of the most beautiful scenery and some of the most comfortable living climate in the country, so it's no surprise that Phoenix is fast becoming one of the most popular convention locations in the United States. Center of the 13th largest metropolitan area in the country, Phoenix has all the luxuries and amenities of larger cities while offering the most beautiful weather in the country.
Phoenix is home to the Phoenix Civic Plaza Convention Center, a highly modernized facility that plays host to five exhibit halls enclosing 43 meeting rooms, with over 300,000 square foot total within the facility. Locally famed for award winning customer service, the Phoenix Civic Convention Center is an intelligent choice for meetings, conventions, trade shows and banquets.
If you're planning on attending an event in Phoenix or anywhere else in the southwest, you should know that a Tech Travel Agent from Rentacomputer.com can deliver the technology you need to any of 1,000 cities in the country. Don't worry, let us handle the work.