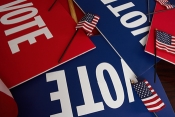 With the 2008 Democratic National Convention looking to be the most exciting in years it's no secret that equipment rentals in Denver will be at a premium this August. From laptops rentals, large screen plasma TV rentals, projector rentals, public address equipment rentals, web casting and even production equipment rentals, are all expected to be making the list of equipment that will be in short supply.
But not to worry, Rentacomputer.com has been busy preparing for the 2008 Democratic National Convention since last year. With a complete line of Denver technology rentals, event rentals, and audio video rentals, your Tech Travel Agent will help make your time in Denver is as productive as it can be by providing you the short term technology rental you need, when you need it.
With over 20 years of experience in nationwide event and convention rentals, we know that no other single company can delivery more technology rental products to Denver this summer. So if you are still in the planning stages of your trip to the 2008 DNC check out a few of our very informative web pages on : Campaign Rentals, Event Rentals, Pepsi Center Computer Rentals.