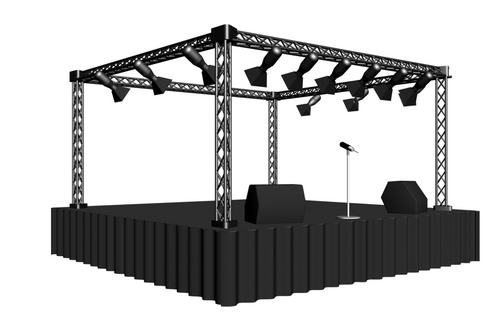 Tech Travel Agents at Rent A Computer are now offering several New Convention and Large Event Products/Services in your area.
Portable Stage Rentals are now available that can help make any event a success. From a community 4th of July celebration to a national campaign stop, a Portable Stage Rental is a cost effective and convenient solution.
New Industrial Audio Rentals are also available nationwide. Few things are as important to a large scale event as making sure you speaker or entertainment is being heard clearly. With a complete line of equipment from respected manufactures such as Shure, Mackie, Panasonic and others, you can count on your event being heard loud and clear.
Video Wall Rentals, in sizes as large as a 5×5 matrix of seamless 42″ plasma displays, are now available with complete delivery and setup. For those times when a big impression is a must contact your Tech Travel Agent and ask how a Video Wall can work for you.
We want to help! So when considering rental equipment for your next convention or event be sure to check with us first and learn how we can save you both time and money. Remember our Tech Travel Agents have on average 15 years of experience to help make your event the best it can be.
To stay up with the latest News on Rentals for Corporate Events check out our Event Rental Blog or click here to obtain a quote or more information on an Event Rental.
Subscribe to our RSS Feed.