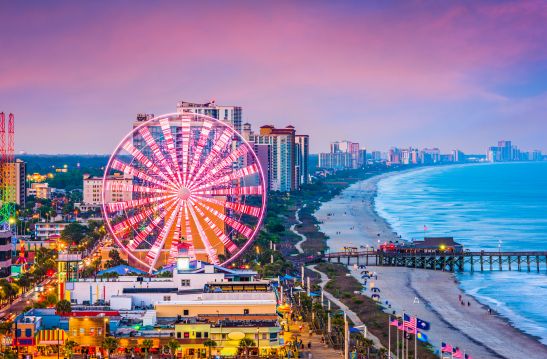 This month rentacomputer is featuring convention rentals at the Myrtle Beach Convention Center. Computer rentals in the South Carolina area and Myrtle Beach have been a part of everyday life at Rentacomputer.com for over 20 years.
The South Carolina Coast is an extremely popular travel destination with Myrtle Beach topping the list of most visited cities in the state. What makes Myrtle Beach so special is not the fact that the city is a popular coastal resort city with white sands and clear beaches, but also because of the first class meeting and exhibition facilities offered at the Myrtle Beach Convention Center. Being able to combine business and pleasure is something very few cities in the United States can truly offer, and it is something that Myrtle Beach excels extremely well at.
The Myrtle Beach Convention Center itself is a multipurpose sporting arena and exhibition center which means that it can handle nearly any type of event, convention or conference. The center also has two levels of meeting rooms and a grand ball room making it the perfect place for corporate banquets and business meetings. Some of the upcoming conventions being held at the Myrtle Beach Convention Center are The Aroma Senses Convention, South Carolina Rural Letter Carriers Association, Student Venture Conference, and the Showstopper National Competition Event to name a few.
From laptops, computers, and plasmas to projectors, kiosks, and staging rentals, Rentacomputer.com has whatever Myrtle Beach Computer Rental you may be looking for. If you are interested in an Event or Audio Visual equipment rental for a convention or conference or are just looking for general information about the convention center, see our Myrtle Beach Convention Center Rentals page for news, weather, and more.
Or call us today at 800-736-8772 to speak to your personal Tech Travel about your next Myrtle Beach Rental or see this link here for a quick and easy Myrtle Beach Computer Rental Quote Request.
*Rentacomputer.com is not affiliated with or in any way authorized by the Myrtle Beach Convention Center. Rentacomputer.com is an independent nationwide technology rental provider and this page in no way implies exclusivity of our services at the Myrtle Beach Convention Center.