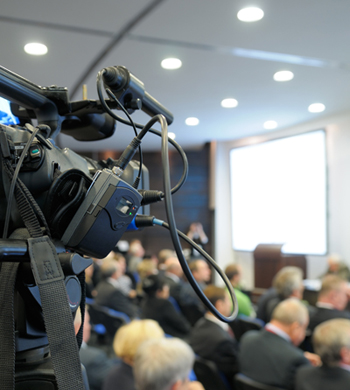 Tech Travel Agents with Rentacomputer.com now offer complete IMAG System Rentals, which are a great asset to have when planning a large event. IMAG stands for Image Magnification, and IMAG Systems are networks of video cameras that allow for dynamic documentation of large events.
Let All Attendees Feel Close To The Action
What an IMAG System allows event planners to do is setup cameras at various angles and viewpoints, all of which are live, but a central operator can creatively cut away and cross-fade between cameras and angles of view. For an event with thousands of attendees this is invaluable, since this footage can be shown on very large screens, so that no one misses the action.
Profit From Your IMAG System Rental
Not only do IMAG Systems allow for aesthetically appealing displays of the event, during the event, but the captured footage can all be stored as well, allowing camera operators to document the event and present all footage captured from the various viewpoints to an editor. Depending on the kind of event it is, attendees may jump at the chance to have a video of it as a memorial; and with carefully priced DVDs that the attendees can order before leaving the event, this can be an opportunity to profit from your IMAG System Rental!
Broadcast Quality Cameras
It is important to have 'broadcast quality' cameras for your IMAG System Rental, since you want the best quality possible for viewing attendees, as well as any DVDs that you might plan to market afterward.  There are many cameras that can accomplish this level of quality, but our Tech Travel Agents consider cameras like the Sony DSR-PD170 and the Sony DXC-637 to be good solid cameras that yield professional grade quality.
Peripherals & Budgeting
In addition to cameras, an IMAG System Rental also includes any and all necessary peripherals, such as tripods, studio configuration kits, lighting, switchers and record desks, and any cabling necessary for networking the cameras. Ultimately, the amount of hardware in an IMAG System Rental depends upon your budget; the more cameras you have, the more dynamic your video presentation will be, and the higher the budget needs to be. One should not, however, be discouraged by budget issues. The Tech Travel Agents at Rentacomputer.com have over 20 years of experience in dealing with the needs and the budgets of clients. Contact your Tech Travel Agent for more information on procuring a professional grade IMAG System Rental that is appropriate for your need and budget.