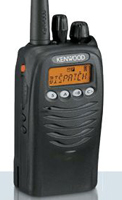 Why Rent a Radio?
2 Way Radio Rentals make perfect sense when you need a radio for corporate events, company marketing projects, convention services, and special projects! Our Radio Rentals are available for rent for a day, a week, a month or even longer.
Remember, renting 2way radios is the most flexible way to increase employee productivity during large projects when you can't be around physically to help them. A Radio Rental saves money because it can reduce capital expenditures when they are not absolutely necessary.
Note: 2 way radios operate on fixed RF channels. In the case of radios with multiple channels, they operate on one channel at a time. The proper channel is selected by the radio operators. The user operates a channel selector or buttons on the radio control panel to pick the channel.
More info and rental request:
2 Way Radio Rentals