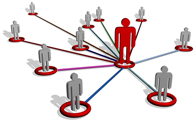 Ever heard of a Network Solution rental? Well, such a thing does exist and Rentacomputer.com has exactly that.
A network solution rental basically allows you to temporarily rent everything you could possibly need to set up a fully functioning computer network at your next convention, trade show, conference or temporary office.
Rentacomputer.com can set you up with everything you need for a network solution including computers, servers, server peripherals, computer peripherals and anything else you need, allowing you to fully connect your team to the internet and each other.
However, if you are planning on renting a network solution, you don't have to stop there. Rentacomputer.com can include in your network solution rental other office equipment like a printer, copier or fax machine.
Nearly any type of laptop or desktop computer can also be added to your network solution rental and can be connected to your other technology as well.
You can rent laptops and desktops from all the top brands like Sony, Toshiba, Dell and Apple and you can also rent monitors and plasma screens as well, further adding to your complete network solution rental.
One good reason for a network solution rental is disaster recovery. If disaster strikes your office and compromises your technology, recovery can be made extremely simple with a network solution rental.
You can get a fully customizable network solution tailored to your every need. Whatever you need, Rentacomputer.com can handle it.
So the next time you need a full network solution rental, whether it be for a conference, trade show, convention, temporary office or disaster recovery, head on over to Rentacomputer.com.  I promise you they will have everything you need.