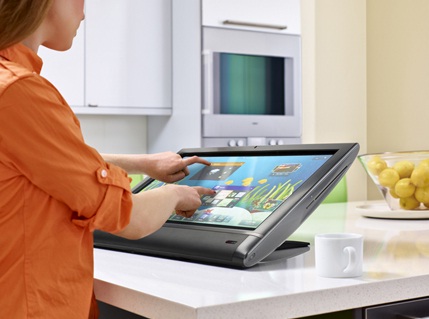 HP has been keeping pace in the All-In-One PC industry. An all-in-one PC is exactly what it sounds like, it is a PC that has all the components without all the extra clutter of having a tower and monitor and extra peripherals. The all-in-one design of the flat-panel HPs put everything you need: display, processor, graphics card, hard drive, optical drive, memory, and more inside one simple enclosure. There are no extra wires, no clutter, just plug it in and your ready to go.
HP Omni and TouchSmart Models
Currently, HP has two lines of All-In-One PCs that are gaining in popularity: The HP Omni PCs and the HP TouchSmart PCs. The Omni 120 and 220 PCs have a very modern easel design with HD Displays and a wireless keyboard and mouse. The main difference between the two Omni models is that the HP Omni 220 has a 21.5″ display (instead of the Omni 120's 20″), new cantilever design for -5 to 25 degree tilt, and high performance speakers.
The HP TouchSmart 320, 420, 520 and 610 PCs are popular due to their touchscreen ability and no need for a mouse or keyboard. All come with a Blu-ray disc player and high performance speakers. The difference between the models are the screen sizes. The HP TouchSmart 610 PC is their newest and greatest with a 23″ display and a full 60 degree tilt, it is even wall-mount capable. It comes with the latest in multi-touch technology allowing users to pinch, flick, rotate, arc, press & drag!
Interested in an HP All-In-One PC Rental? Visit Rentacomputer.com's HP Computer Rental page or All-In-One PC Rental page.