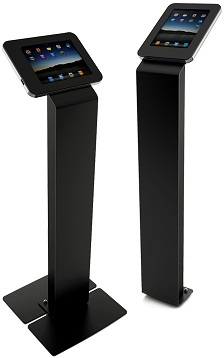 With simple touch screen interfaces, iPads make perfect kiosks. Kiosks are great for trade shows and conferences, where there is a need for self-service technology. Instead of a computer based kiosk, iPad kiosk rentals are more affordable and easier to set up. They are sleek and non-intrusive due to their small size. Since iPads have built in mics, cams, keyboards, speakers, and touch screens, they eliminate the need for the standard kiosk, minus improved performance.
iPad kiosks and enclosures securly encase the iPad to enable public use of the Apple iPad device without fear of theft or damage. If you are interested in an iPad kiosk rental, Rentacomputer.com can acquire iPad kiosk enclosures, iPad kiosk stands, iPad wall mounts, iPad tables mounts, and more!
Popular Uses for Kiosks
Gaming
Signage, Maps and Offers
Survey Station
Advertising & email Collection point
Automated registration device
Ticket Sales and despensing
Tradeshow Booth Locator
Information Stations
Visitor Welcome Stations
Product Video Demonstrations
For more information view our iPad Rentals and Kiosk Rentals pages or speak with a Tech Travel Agent: 1-800-736-8772.