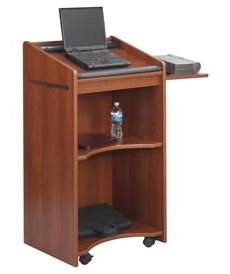 Lectern and Podium Rentals are very useful for conferences and meetings. Podiums are excellent for presenters, especially those who are using a laptop, projector or microphone during their presentation. Podiums are also great for big speeches where the presenter needs to glance at notes. They allow you to organize all appropriate materials for your presentation onto one stand.
Size and Style Options
Podiums and Lecterns come in many sizes and styles. Podiums and Lecterns come in styles like wood, steel, or acrylic and take many different shapes, widths and heights. When choosing a podium, be sure to get the dimensions that work best for your presentation. If you have a widescreen laptop or a projector to setup on your podium, you will want to make sure the width of the podium supports the amount of space you need.
Integrated Features
Some podiums are multi-purpose and come with integrated features like wireless microphones and connections for laptops and projectors. This eliminates the clutter of wiring and doesn't require you to obtain a separate microphone. Additionally, most podiums include things like keyboard trays, shelves, pencil trays, wrist supports, paper stops, tilt and roll mobility and more.
If you're interested in Lectern & Podium Rentals call your Tech Travel Agent and reserve your equipment today: 800-736-8772. Rentacomputer also offers other Audio Visual Equipment Rentals and Event AV Rentals.