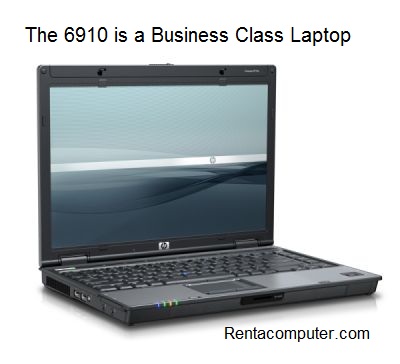 The 6910 is a business class notebook/laptop. Solidly built and there is no sacrifice made when it comes to security and communications features you'd want to have in a business class laptop computer rental.
Specs: Intel Dual Core 2Ghz Notebook 14.1″ Display
2GB Ram / 80gb HD / CDRW / DVD / 10/100 NIC / 802.11g Wireless
Windows XP Pro SP3 or Windows 7 / Adobe Reader / IE 8 / Anti-Virus
Carrying Case / External Mouse
The 6910, being a business class notebook/laptop, is designed so that we can install your company image (operating system and applications) on the computer.
Best of all, the 6910 laptop computer rental is on sale this summer at 20% below normal rental rates.
Want this special price? Contact Tech Travel Agent, Tony Cipollone and ask for a the 20% discounted rate on the 6910, phone: 800-736-8772 x241 or email: tony@rentacomputer.com