Rentacomputer.com is giving away a Kindle Fire this Summer! All you have to do is enter your name and email for a chance to win!The Kindle Fire is Amazon's most popular e-reader tablet, which allows you to read books, watch movies or surf the web.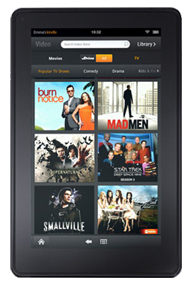 7″ multi-touch display, light weight (less than a pound!)
Wi-fi Connectivity and super fast web browsing!
Movies, apps, games, music, reading and more, plus Amazon's revolutionary, cloud-accelerated web browser
Thousands of popular apps and games, including Netflix, Hulu Plus, Pandora, and more
Kindle Fire is great for parents and kids. Stir your child's imagination with over 1000 beautifully-illustrated children's books, including favorites like Brown Bear, Curious George, and Circus Ship.
The winner of the Kindle Your Summer Fire sweepstakes may also choose from a variety of other Kindle products, if they prefer something other than the Kindle Fire. Other prize options include:

You can also earn multiple entries by sharing your unique URL with your social network (Facebook, Twitter & Google Plus).
So Kindle your summer Fire by entering Rentacomputer.com's Kindle Your Summer Fire sweepstakes!