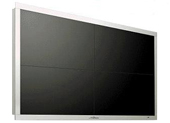 There are many things that you can do to make your conference, trade show or convention booth stand out from the rest. You could have some colorful banners and signs, maybe some flashing lights or even somebody in a ridiculous costume grabbing people out of the crowd, though that may get a little weird.
One of the best ways to draw attention to you and your booth, however, is by utilizing a video wall. A video wall is a set of plasma screens or monitors that you mount in order to allow multiple people to see what you are trying to show them or to add a little bit of flare to your booth.
However, not many people have the funds to purchase a full scale video wall. That is why Rentacomputer.com offers fully featured Video Wall Rentals. A video wall rental is a great idea for any company that is looking to offset the large cash outlay required for a video wall purchase.
Having the option of making payments or only paying for the video wall for as long as you need it is one of the most alluring things about a video wall rental. It also allows you to be absolutely sure that everything will be ready and working on the day of your presentation, convention, trade show or conference.
Rentacomputer.com has a plethora of video wall rental configurations including 2 x 2, 3 x 3, 4 x 4 and 5 x 5. However, if none of those seem like they will be sufficient for you and your booth then you can always get a custom configuration that is specifically tailored to your exact need.
So the next time you are thinking about sprucing up your next trade show booth, consider a video wall rental from Rentacomputer.com. Local delivery and setup along with a professional installer that will be there to take everything off your hands when you are finished are just some of the convenient features of a video wall rental from Rentacomputer.com.