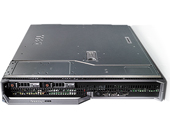 Servers are important pieces of equipment in most corporations and companies. Servers are the life force behind many IT departments, which is why when something goes wrong with one, it is a big deal. There are a lot of times when a company's server will go out, for whatever reason. In times like these it is important that you get a replacement server as soon as possible. That is why Rentacomputer.com allows you to rent a server for a temporary solution.
Server rentals are perfect if you need a quick fix before you have time to get a long-term replacement server. A server rental from Rentacomputer.com allows you to have a high-grade server replacement delivered directly to your building, installed and tested by a local certified installer, taking all the burden off of your shoulders.
One of the most common server rentals from Rentacomputer.com is a Blade Server Rental. If you are planning to rent a blade server, then you probably already know that the most important aspect of a blade server is their ability to save physical space as well as energy. Blade servers are, naturally, very thin in their physical design which allows you to use multiple blade servers while also saving a lot of space.
In addition to providing you with the hardware, Rentacomputer.com can also provide you with software. Rentacomputer.com can custom load any server operating system onto your rental server at your request, including the newest addition to the Microsoft server family, Windows Server 2011.
If you find yourself in need of more than one blade server,  you could also consider an entire Blade System Rental. A Blade System Rental is a rental solution that includes a series of blade servers that operate in conjunction with one another. This increases storage capacity and computing power for all of your large project needs.
So the next time you find yourself in need of an emergency server replacement, consider a blade server rental, or any other type of server rental, from Rentacomputer.com. With over 20 years in the business of technology rentals and with local delivery and installation anywhere in the United States, you know you are going with a name you can trust.