Going wireless is easy with a Tech Travel Agent© from Rentacomputer.com. Just tell us what you want to do wirelessly. We will provide everything you need without all the technical jargon.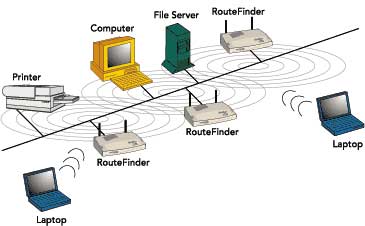 Are you looking to go wireless on your next company computer
rental project? You probably knew you could rent
wireless notebooks. But did you know you can also rent
wireless projectors and printer servers?
Consider the convenience and added benefits of renting today's wireless technology. Wireless has a huge advantage over wired networks, especially for short term projects where rental computers, printers and projectors are deployed.
Wireless networks are faster and easier to setup than
wired networks. Wireless devices add flexibility
and save time. With wireless, you can move your
laptops, projectors, printers around and still maintain
connectivity. Best of all, you don't have to run cat5
wires from routers, computers, printers and switches.