Cincinnati, Oh -This year, Rentacomputer.com Celebrates 20 Years in the Computer Rental Business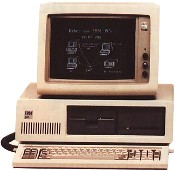 From 1987 to 2007, Rent-A-Computer, renamed Rentacomputer.com, is a computer rental company that has evolved with the personal computer industry.
"In 1987, the first computer we rented was the IBM XT, a 8088 processor with 20mB Hard Drive. We upgraded it with a graphics card and green screen monitor. We also IBM AT with a 80286 processor. Our first Apple product was a Mac Plus. And our first laser printer rental was the HP LJ Series II." said Rose Morgan, co-founder with John Beagle.
In 1997, Rentacomputer.com was one of the first rental companies on the internet. Rent-A-Computer created its first website, Rentacomputer.com more than 10 years ago.